Learning on the part of adults is considered a necessary precursor to learning on the part of students. For adults to learn, it is vital that they engage in professional activities and are supported in community, thus creating a PLC infrastructure. This infrastructure nurtures continuous learning and improvement on the part of adults to achieve increased student learning (Cowan, 2003).
The PTLC provides a process for aligning curriculum, instruction, and assessment to state standards and consists of six steps: study, select, plan, implement, analyze, and adjust (SEDL, 2005).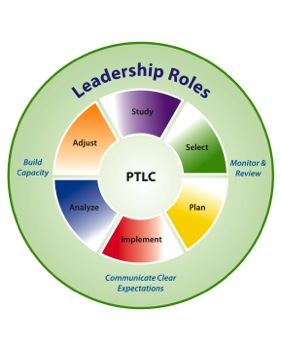 The PTLC, which focuses primarily on classroom practice, is a powerful strategy for strengthening two PLC dimensions: collective learning and application, and shared personal practice. The PTLC additionally requires ongoing collegial interactions and leadership support from district staff, principals, instructional coaches, and content specialists, particularly as teachers are learning to engage in this strategy.
To understand the cycle more thoroughly and apply it more reliably, it is highly recommended that leaders consider accessing a book entitled Getting Serious About the System: A Fieldbook for District and School Leaders, available from Corwin Press (https://us.corwin.com/en-us/nam/getting-serious-about-the-system/book236762). This book provides a detailed, step-by-step process for improving a local educational system at the district, school, and classroom levels.
If accessed, be sure to log on to the Corwin website for this book (http://www.corwin.com/gettingserious) to access extensive online materials and resources (including Facilitator Guides). The information for doing this is located in a note placed by the editors at the end of the book's Table of Contents.
An accompanying book entitled A Teacher's Guide For Getting Serious About the System (https://us.corwin.com/en-us/nam/a-teachers-guide-for-getting-serious-about-the-system/book236800) helps teachers understand the systemic approach to educational improvement and enables them to offer important leadership in their schools.
For more information, read the chapter entitled "The Professional Teacher and Learning Cycle: A Strategy for Creating Professional Learning Communities" (pp. 57-68) included in the book, Demystifying Professional Learning Communities: School Leadership at Its Best (Hipp, K. A., & Huffman, J. B., 2010, New York: Rowman & Littlefield).