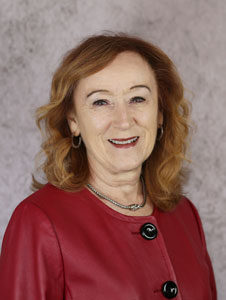 Dianne F. Olivier, Ph.D., Professor of Educational Foundations and Leadership, College of Education, University of Louisiana at Lafayette, serves as Coordinator of the Doctoral Program. She earned her doctorate at Louisiana State University.
Dr. Olivier teaches doctoral educational leadership and research courses in both K-12 and Higher Education concentrations. She holds the Joan D. and Alexander S. Haig/BORSF Endowed Professorship in Education and served as Interim Department Chair. 

Dr. Olivier received the 2020 Eminent Scholar/Dr. Ray P. Authement Excellence in Teaching Award. In 2014, she was named a University Council for Educational Administration (UCEA) Jackson Scholar Mentor for minority doctoral students.  She received the University of Louisiana at Lafayette Outstanding Doctoral Mentor Award for 2019-2020, 2018-2019, 2014-2016, and 2013-2014, and the UL Lafayette Research Excellence Award, 2014-2016. Dr. Olivier serves as a board member of Phi Kappa Phi Honor Society.
Dr. Olivier has chaired 66 doctoral graduates. She uses her former 34 years of K-12 administrative experiences, including 26 years as a district administrator, to inform her educational consultant work with the Learning-Centered Leadership Program for the Southern Regional Education Board (SREB).
Dr. Olivier's research focuses on professional learning communities, educational leadership, change processes, school culture, and teacher self- and collective efficacy. She has developed several assessment measures relating to these research interests that are used on both a national and international level. She has authored and coauthored several chapters and articles on professional learning communities and school leadership.
Dr. Olivier's work in the area of professional learning communities has transitioned from the domestic national level to participation as a member of a Global PLC Network researching the PLC process from a global perspective. This network has resulted in international presentations in Australia, Canada, Hong Kong, Indonesia, Singapore, and Taiwan.
For more information, see Dr. Olivier's CV or email her at [email protected]